Contractors can utilize a concrete sensor to gain inside knowledge of what exactly is happening in their concrete, like a health monitor or a Fitbit stuck inside producing vital readouts of the inner workings of the mix reporting on temperature, and analyzing data to estimate maturity levels.
The placement of a concrete sensor device is traditionally anchored or tied to the reinforcement in an array providing data back to contractors. This data can then be analyzed, and a few conclusions can be estimated based on the results. Similar to the seemingly uncountable sensors utilized in today's modern vehicles, the concrete sensor works by detecting data and sending it to a computer for analysis. Where the vehicle sensors grab information on temperature and pressures (and more) to a more centralized "brain," the concrete sensor works in a similar fashion. However, the technology is still young in construction.
"We obviously feel that there should be more sensors, we think it's not only an opportunity to improve quality, but more importantly, you can use the data to move faster, and become more efficient," says Brendan Dowdall, director of concrete sensors at Hilti. "There's a lot of opportunity for growth and improvement, both on the technology and on the customer side."
Dowdall began working with concrete sensors back in 2015 co-founding a startup company focused on sensor technologies. They finally addressed the market two years later and were acquired by Hilti in the March of 2020— roughly a week before "the shutdown."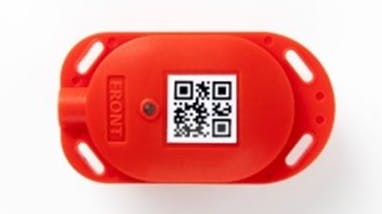 Hilti's Concrete Sensor system includes a portfolio of connected (i.e., "smart") devices, an easy-to-use mobile app, internal lab testing for calibrating concrete mix designs and training and support services.Hilti Inc.One of the biggest changes Dowdall has seen has been within the hardware industry. Originally, if you wanted to build hardware (i.e. a concrete sensor), you would have to become a silicon manufacturer. The last few decades have seen more standardization of how hardware components are manufactured. "At the risk of oversimplifying it," he explains, "it's a little like buying off the shelf. Then, it's up to you (he means the manufacturer here) to sort of put those parts and pieces together." This moves the burden of expertise away from manufacturing electronics to implementation. These changes adjusted the question from how to manufacture, how to scale manufacturing or the development of high-tech hardware in an economical way towards the market and customer side. For Dowdall, it was now "can we identify a problem that we can address…with a minimum viable product and then in a scalable way. That was the enabling event that got us into it and made it seem reachable as a startup."
Throughout the years, Dowdall's team had a number of hurdles to figure out, like the engineering to protect the electronics, electrical issues in how to get wireless signals through the concrete, as well as the design on how to attach it to rebar. And, of course, how to turn it on.
"One of the innovative things, I think, was use a photosensor to turn the sensor on." Hilti's concrete sensors (the HCS-T2, HCS-TH1,  and HCS T1) are initialized when a contractor takes the product out of the package, essentially putting the device into a state of readiness. Then, once covered by concrete and returned to the dark, the sensor begins capturing data.
As one of the first companies to introduce a fully wireless sensor on the market roughly six years ago, Giatec's Aali Alizadeh, CTO and co-founder at Giatec, started in civil engineering and materials. Over the past decade, the company has been leading towards technology development and product design. "We've always stayed true to our core value proposition of removing the hassle from jobsites," says Alizadeh. "Construction companies, technicians, and labs want to get things done as easily as possible."
More information: The Ground Breakers Podcast

Listen to "A Look at Concrete Sensor Technology" – Talking about concrete sensor technology, what they do today, how, and their potential for tomorrow's concrete construction.

Listen to "The Research in Concrete Sensor Technology" – Pushing construction technology further to get real time data from concrete sensors, Purdue researchers have been working on a years-long project to investigate the value of integrating concrete sensors with the internet of things.
Hamid Alemohammad is the co-founder and chief operating office at AOMS Technologies, a company standing at the forefront in industrial internet of things (IoT) systems for harsh environments. They provide end-to-end solutions including hardware sensors, data collection devices, cloud connectivity, and software and analytics solutions for customers to receive insight from their processes and assets. Their goal is to help contractors be more efficient and more productive.
Founded in 2014, AOMS came from the result of over a decade of research and development at the University of Waterloo in Canada. At the time, IoT was not a household name. While they started as a sensor company, they've evolved into developing products based on IoT—which includes much more than just sensors, but data acquisition, cloud services, and more. Where the genesis of the company was sensors and IoT for harsh environments, the original idea has evolved quite significantly. With construction and infrastructure key markets, they currently offer integrated and IoT solutions such as sensors, data acquisition systems, wireless connectivity, and software analytics. In his words, "We help our customers generate mission-critical insights from assets and processes, specifically in harsh environments, and very difficult to access locations," says Alemohammad.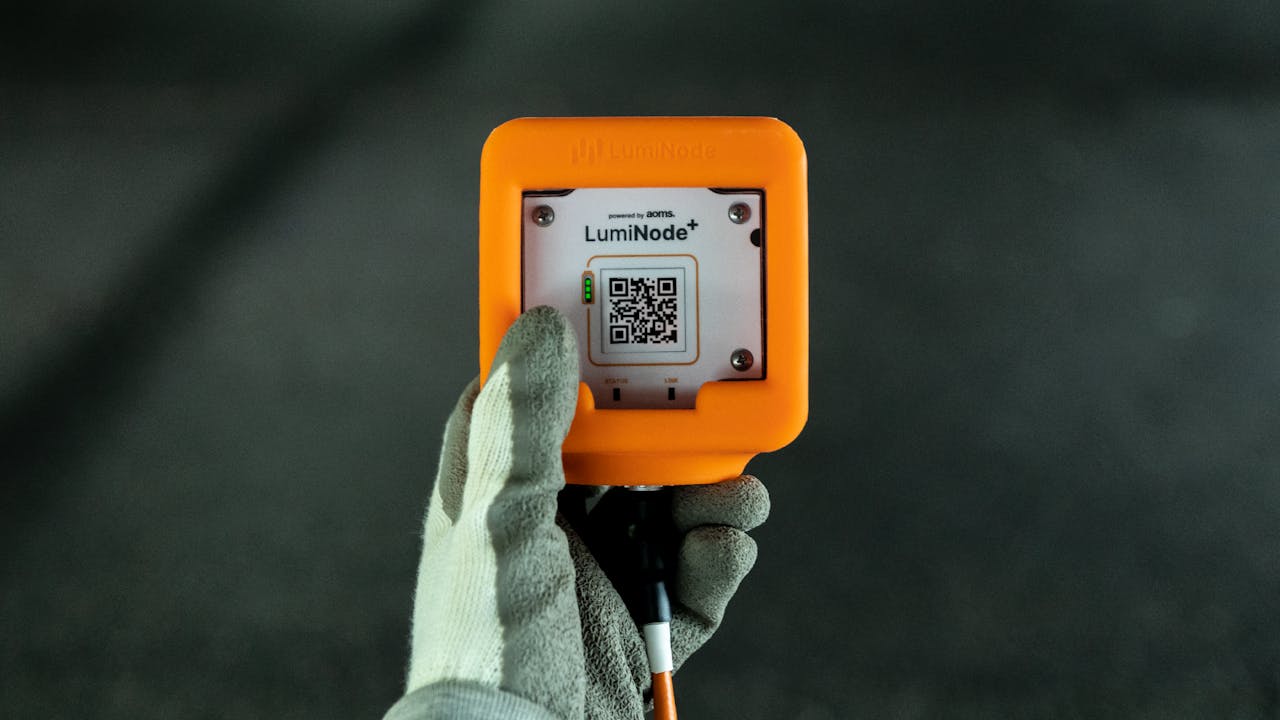 As part of their LumiCon Smart Construction Platform product suite, the LumiNode Plus concrete sensing solution by AOMS Technologies is an advanced wireless sensing solution for the concrete industry that offers direct cloud connectivity, enabling instant streaming of concrete temperature and maturity data directly to the cloud without the need for extra devices such as network gateways, repeaters, or signal boosters.AOMS TechnologiesWhile the concrete sensor must be constructed to withstand such a harsh environment, surprisingly enough, they are typically smaller than one might think. For AOMS, they're around less than a quarter of an inch by not integrating a power supply with the sensor. AOMS sensors utilize a system of ruggedized cables connected to a small hub—which is roughly the size of a Rubik's cube. Conversely, both Giatec and Hilti use wireless Bluetooth technologies. For comparison of a wired sensor to wireless where a power source is installed, the battery itself is roughly about the size of a coin.
How They Help the Slab / Foundation
Those watching the concrete sensor market are seeing more and more project bidding documents specifying the use of concrete sensors as part of the thermal control. Projects like building slabs, civil projects, energy infrastructure, military construction applications, commercial construction projects, as well as roadbuilding all benefit from the use of a sensor.
When working with a large concrete pour, a well-designed thermal control plan is essentially an attempt at controlling the temperature of concrete. Alemohammad explains that it is important for quality assurance to measure temperature at different locations in the concrete—controlling the thermal integrity, the temperature differentials, making sure that the temperature of the core versus the surface will aid in optimizing your schedule. "One key aspect of that is using concrete sensors to form maturity and strength calculations. That data helps contractors to accelerate the form worker," he says. "We have data to show that some of our contractors have been able to advance their schedule by 20%."
While commonly used in infrastructure and mass concrete application, Alemohammad does say that AOMS has seen contractors find a schedule advancement for both mass and small concrete slabs. "You can take advantage of the technology in all types of concrete work," he says. Adding that contractors are able to utilize sensor data for operational efficiency and improve the quality of the water data.
Use Cases
One contractor utilized AOMS technology for a dam construction project in northern Canada, explains Alemohammad. Temperatures were able to dip below -22º F— drastically increasing the time it would take a single slab to cure. To counter the cold winter, the contractor built a heated shelter around the slabs. In order to maintain the curing progress, they needed a reliable concrete temperature monitoring solution capable of measuring both the core and surface temperatures. Using the captured data allowed contractors to be sure that the concrete had adhered to its thermal curve—allowing them to strip the forms and remove the thermal shelters quicker.
On the other end of the spectrum, in Florida, one contractor needed to monitor the curing strength and progress of concrete slabs for a high-speed train line. The LumiCon concrete sensor system from AOMS allowed them to wirelessly transmit data in real-time.
According to Alizadeh, sensors have been used in more than 8,000 projects worldwide in the past six years. One example he points to is the Ballista Towers in Chicago. The building is a 100-story post-tensioned structure that contractors used smart sensors to monitor the strength of concrete to pinpoint exactly when to pull the cables.
Alizadeh explains another example featuring core and surface temperature monitoring in an effort to avoid—or eliminate—the potential of cracking: wind turbines. "We have these mass footings…one sensor measures the surface temperature, the cable part of the sensor measures the core temperature," he says. "That would help you create (and monitor) a differential."
Captured data from sensors are analyzed by software. Hilti, AOMS, Giatec, and many other concrete sensor manufacturers have also developed applications to aid concrete contractors to make sense of the data—often including smartphone versions of the software. For Giatec, Alizadeh explains, as long as you calibrate your mix and put that calibration in the mobile app. The intelligence in the software uses the temperature data to determine the concrete maturity.
"The essential parameters that you need to enter into [the app] to correlate temperature to strengths are the maturity coefficients," says Alizadeh. Afterward, the app does all the calculations in real-time.
"If you enter additional information, including the mix design, for example, you can get a verification of the strengths through our AI application," he continues. "The way we try to help contractors ensure that the results they are obtaining is accurate, we run an AI algorithm in the background. As long as they have their mix design entered, that mix design is also correlated with the strength of concrete, so we can get a warning that there's something wrong with the sensor or the results so they can double-check to ensure that what they're getting is valid, and they can confidently and safely go to the next step in their projects." This data can also be integrated with BIM software applications, like those from Autodesk or Procore.
Key in the philosophies of product design from AOMS is that the technology should be simple enough and limit operational costs for the end-user. The Luminode Plus—the wireless transmission—and Lumicon are part of the Lumi concrete sensor product family at AOMS. The node itself includes an integrated battery, rechargeable by USB, which can last from six months to a full year. This node is able to connect the data to the cloud.
Also connecting to the IoT, contractors have two wireless choices when considering technology from Hilti—choices based on the distance you need to access the sensor. Since Hilti's sensors have an integrated battery capable of lasting up to two years. They utilize Bluetooth technology to connect to the sensor with a tablet or phone, but you can passively collect data from all around the jobsite using a gateway hub connected to the cloud. "I think that's a real game-changer for customers who are looking to optimize their schedule and costs so they can focus more on the issues at hand rather than having to go collect data," says Dowdall. "We want to make that as simple and easy for them as possible."
Likewise, Giatec's efforts are also aimed at easing the pain from managing technology at the jobsite. "That value proposition has been resonating with our end users," says Alizadeh. Giatec also takes advantage of Bluetooth technologies and a mobile app. The sensor battery should operate for about four months after installation—enough for strengths and temperature monitoring of the earliest stage of concrete construction.
What Can Survive in Concrete's Harsh Environment? Bacteria.

As hostile as the dry, salty, alkaline, and nutrient-poor environment may be, a study by the University of Delaware discovered that bacteria can actually thrive. Researchers found that a significant percentage of the bacteria found came from the aggregate (like gravel and sand) while others come from the placed environment. Often rebounding in the warmer months of the summer. One hypothesis is that monitoring the bacteria could mark an "early warning system" of sorts for concrete structures—else, other ideas suggest that they could participate in an active role in concrete repair.

 
Ongoing Research
Pushing concrete sensor technologies further, Giatec has two innovations aimed at two directions currently in play–one is the sensor technology itself.
"There are new types of sensing that are being introduced," explains Alizadeh. "Electronics are getting cheaper and more advanced and the wireless communication protocols are consuming less energy. On the data and analytic side, machine learning and artificial intelligence are playing a big role." Over time, by assessing and analyzing this data in different conditions, different environments, and in different mix designs, intelligent analytics will be better at generating new insight on detecting anomalies, detecting patterns, and training algorithms to understand concrete's behavior. Giatec's Roxi—an artificial intelligence algorithm for concrete—uses this data for the same end, as well as using machine learning to verify calibrations, help optimize mixes, and predict the performance of mixes before pouring.
"[Roxi] is there to help end-users make more informed and accurate decisions," says Alizadeh. "We're not taking over the control from the user, the AI is suggesting smart comments for the users to view and review." Giatec has introduced two types of applications adding information to the algorithm. One detects the pour time helping contractors by saving time on the jobsite by providing information on pour times should the placement be large enough that different sensors come into contact with concrete at different times of the day.
The second application introduced relates to mix design optimization in terms of cement content in concrete and reducing it as much as possible with maintaining the performance criteria. "So, with the same strengths and smart air content, the AI algorithm suggests the most economical or most environmentally friendly concrete mix design they can use in their projects," explains Alizadeh. "We've heard from concrete producers, such as U.S. Concrete, that this is a big time saver… to go through the initial trial and error and to pinpoint or narrow down the mix options to a couple of options they can later use or in the field."
AOMS is continuously improving the Lumi concrete sensor product line, says Alemohammad. They work closely with customers to understand needs to strategize product development and add features—staying ahead of the curve to make sure they understand the needs of the market and projects. Advancements in durability and the predictive performance of the concrete based on data captured from the earliest stages of concrete are some of the recent improvements.
"We see more and more requirements for sophisticated reporting and periodic updates for all the stakeholders," says Alemohammad. Additionally, AOMS has unofficially launched a new concrete moisture / relative humidity sensor product but it's being used already by a lot of the company's customers for the post-curing portion of a concrete floor. The product uses the same architecture as the Luminode, by an array of sensors that connect to the wireless node data transmitter. However, instead of only transmitting temperature data, it transmits data on relative humidity as well.
As Dowdall from Hilti explains it, this is part of characterizing concrete where one would then be able to know better the rate of cure based on the environment. "Typically after you've characterized the concrete and start seeing the data, they see that our data that's coming from their slab is showing that the strength is higher than what they're seeing in the cylinder," he says. This is due to the different environments of the lab; a warmer slab would cure faster, a colder cylinder would cure slower. "It's a technical thing, but you know, it's a great validation piece for us that says that we're doing our job well," adds Dowdall. [Note: Hilti offers a strength testing service for contractors.]
Addressing this, AOMS has also developed a simulation environment for concrete samples—called LumiMatchbox—which connects directly to the cloud and integrates with jobsite data. "We use that data to simulate the same environmental conditions in the lab," says Alemohammad. In other words, the sensors grab data from the jobsite and feed that back to the laboratory. This allows the lab to replicate the environment, so any cylinders that are cured there are simulated to have the same temperature (for example) as the actual slab in the field. This, he says, will help with the accuracy of brake tests as well as improve the intelligence behind predictive analytics.
"By collecting all this data and having them ready, over time, we can actually build other models that can correlate the long-term integrity and performance of the concrete to its early-stage curing," says Alemohammad. In a similar fashion, Hilti sees an opportunity to use data in new innovative ways to address and help customers achieve the goals of saving time, saving cost, and being more efficient.
Like many, efforts in reducing the concrete's carbon dioxide impact on global warming have been a key issue. "Sustainability is a big topic for our team and for Hilti," says Dowdall. The company is addressing sustainability from a number of different angles, he explains. With sensors and the intelligent use of collected data, there's an opportunity for some additional carbon saving, and to be more efficient with the carbon that the industry are already using. "I think that data can play a huge role in actually addressing that to help everyone become more efficient," adds Dowdall.
While the concrete sensor is mainly used in commercial concrete, there is potential that the technology could be used in residential and multifamily projects; one part of the digitization of the concrete and construction industry. "The most exciting thing is, it's just that there's a lot of places to go from here," says Dowdall. "I think it's an exciting time to be in construction technology in particular, concrete sensors."
Alizadeh agrees. "At the end of the day, my vision of the future is that one day we'll have these various types of sensors, whether it's a pocket sensor, ambient sensors, telemetry sensors, collecting tons of data from job sites, whether it's materials, equipment, people, and analyzing data in real-time to optimize processes and make job sites more efficient."
Eventually, the automation from sensors feeding data into an AI algorithm might be able to predict the strength of concrete—even if in a few hours or next day. This intelligence could then lead to optimizing the heating cost during winter or providing finishers a notification that the slab is ready.
"I think this is going to happen over the next five to 10 years—automating the process is not out of sight," says Alizadeh. "There are many companies working on the software side of it Procore for example, is investing heavily on documenting and processes and combining that with instrumentation such as sensors that are installed on equipment, and people or materials. We can generate tons of data that can document automate the processes and make alerts and notifications as smart as possible. And basically, make job sites safer and more economical."
With efforts towards reducing the carbon emissions in concrete and in construction, the more data a contractor can collect during the mix design, the better. The industry has always tried to optimize this process as much as possible, but the algorithms were not developed enough to that extent. But Alizadeh sees this all changing with a digital revolution, and likely to happen sooner than we think. "I think over the next five to 10 years, with all these advancements, we'll see this a common practice in jobsites."
He shares Dowdall's excitement, "This is a very interesting time for the construction industry."