Most often, 3D printable concrete is actually a cement-based mixture of several materials, including super-plasticizers that remove water from the mix for faster drying and fibrous materials for improved strength. Providing similar functionality to concrete but with higher printability and sometimes better physical properties, the blends can be formulated for a specific purpose, such as printing walls for housing or for creating decorative architectural elements.
Most manufacturers create their own proprietary material blends, and as such, they've been optimized for their 3D printers (or for those of their immediate partners). Some examples of proprietary material blends include ICON's Lavacrete and CyBe's CyBe Mortar.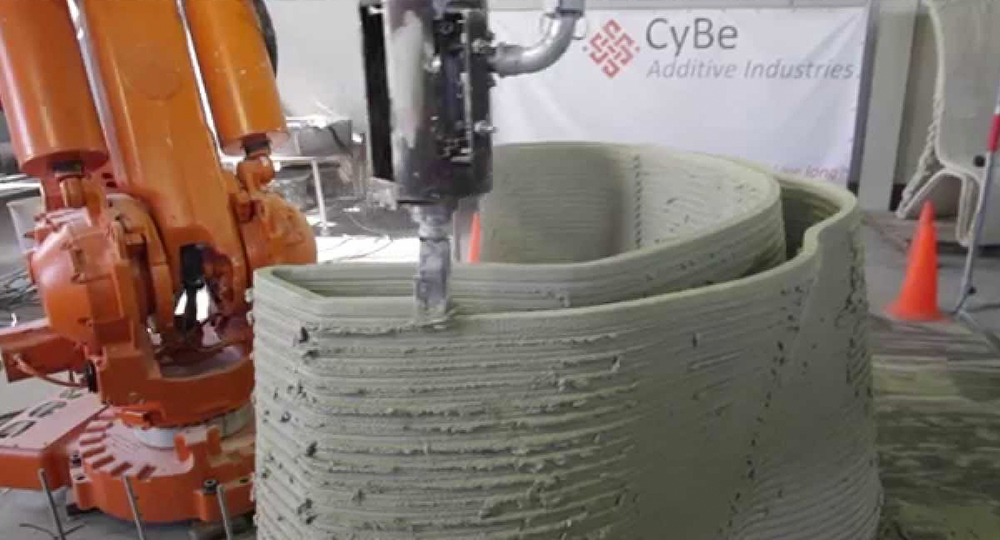 There are some basic features that set 3D printable concrete materials apart from one another. One factor is drying time. There are materials, such as those by construction 3D printer companies Mighty Buildings and ICON, that are cured using UV light. These kinds of materials cure almost instantly and can be printed horizontally without supports.
Other 3D printer manufacturers, such as WASP, have formulated their building materials to be sourced locally, such as local earth and clay. Local material cuts down on costs, making 3D printable concrete a far cheaper option compared to traditional concrete, especially in developing nations.
Although still in the research phase, 3D printing with recycled materials, such as waste concrete from demolished buildings, is also a major eco-friendly selling point of the technology.
| | | |
| --- | --- | --- |
| Company | Material | Printer |
| CyBe | CyBe Mortar | CyBe printers |
| HeidelbergCement | i.tech 3D | Any |
| Icon | Lavacrete | Icon Vulcan II |
| Sika | Sika Concrete | Sika Printers |
| LafargeHolcim | Tector 3D Build | Any |
| WinSun | Crazy Magic Stone | unknown |
Several companies have entered the 3D printable concrete market with their own products. As we've already mentioned, many of the materials are proprietary and designed to work with the specific company's own printers.
That said, others make more universal materials that works with different printers, with some even formulating their materials blends separately for each project. Here we take a closer look at some of the leading material producers in the field and what they have to offer.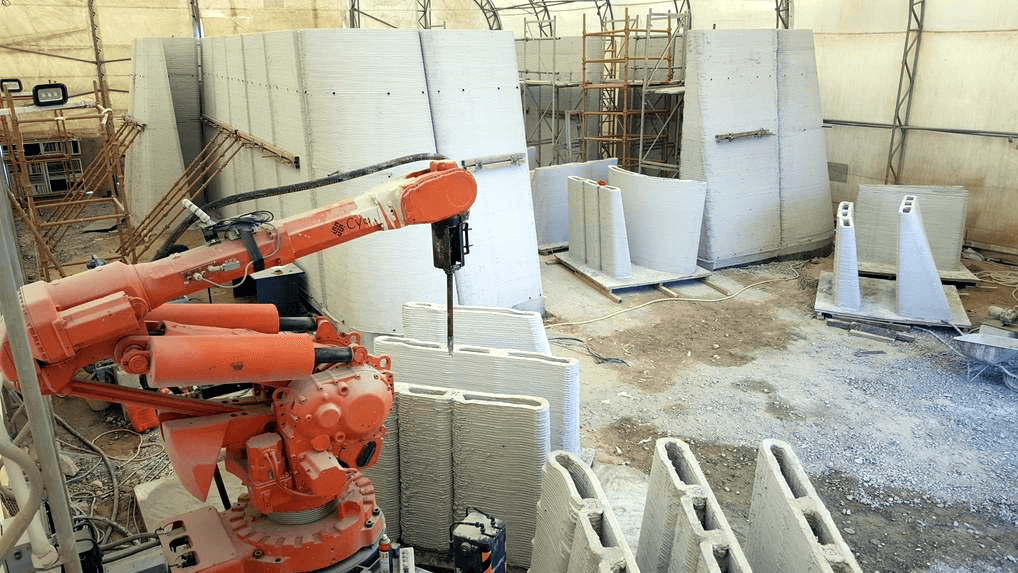 CyBe
The Dutch additive construction company CyBe has on offer its CyBe Mortar. The material has been developed specifically for concrete 3D printing with CyBe printers.
CyBe Mortar is a non-metallic, low-chloride, and low-sulfate material that's suitable for all environments, the manufacturer says. It sets in only three minutes and achieves structural strength in an hour, providing high durability and little shrinkage.
The material can be used in architectural, structural, industrial, and design applications. CyBe says it will also partner with companies to produce CyBe Mortar from locally available materials, cutting shipping costs.
When used with CyBe printers, the material can be deposited at a maximum speed of 600mm/s at a minimum layer height of 1cm and a maximum of 5cm. The company says CyBe Mortar cuts CO2 emissions by 32% when compared to traditional Portland cement.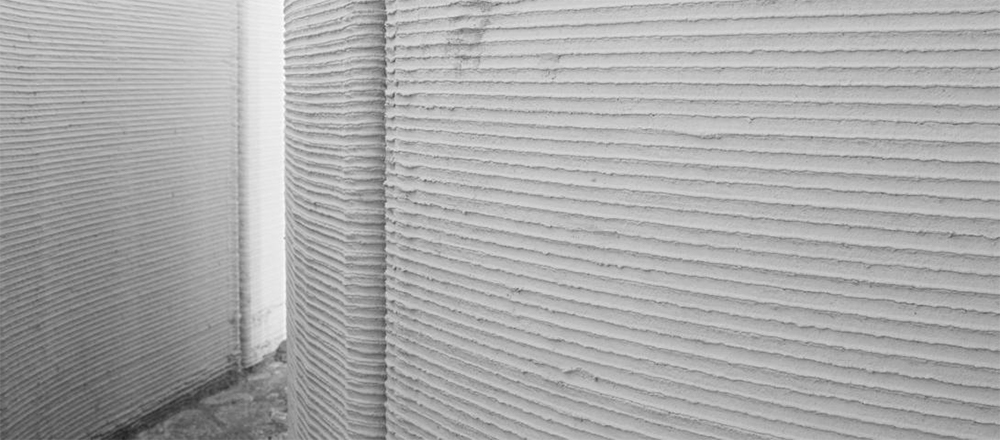 HeidelbergCement
German building material firm HeidelbergCement's i.tech 3D has already cropped up with two projects we highlighted earlier. It was used in both Germany's first 3D printed residential building and apartment building.
The i.tech 3D material was developed in Italy by HeidelbergCement's subsidiary Italcementi. Formulated specifically for 3D printing, the versatile material isn't tied to one particular machine and can be used with various types of 3D printers.
Its proprietary formulation contains a mix of mineral components and additives that provide high pumpability and good extrusion properties. The material forms a strong bond with previous layers due to the fresh-on-fresh printing it enables, says HeidelbergCement.
The i.tech 3D material is particularly suitable for printing straight or curved finished parts and components, in addition to weight-bearing elements. The company says i.tech 3D's formulation can be altered for different printing processes and conditions, allowing for greater productivity and design freedom.
Due to its printer agnostic nature, i.tech 3D's print speed and other technical features will depend on the particular project and printer. With the COBOD printer used by PERI, it was able to reach a print speed of 1m/s.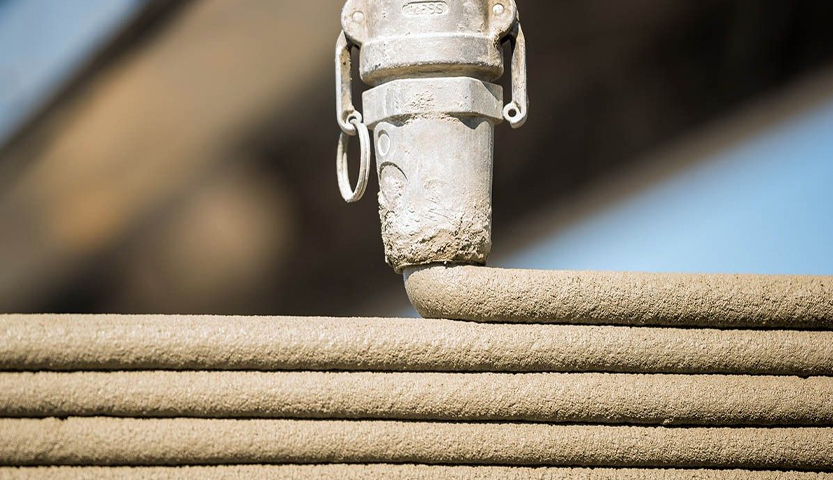 Icon
Like i.tech 3D, Icon's Lavacrete has already been mentioned in this article. This proprietary Portland cement-based blend is designed to work specifically with Icon's Vulcan II printer.
As the company says, the exact formulation is a closely guarded secret, but Lavacrete can be made locally from easily sourced raw materials. It has a compressive strength of 6,000 psi – above that of conventional building materials – and it can withstand harsh and extreme weather conditions.
Lavacrete doesn't require the cladding, framing, and sheetrock used in traditional construction, which lowers costs. The material has been formulated to have a good thermal envelope, providing insulation and comfort for the home.
The specific blend of material and additives in Lavacrete can be customized for each project and location with Icon's Magma delivery system. The Magma system automatically mixes Lavacrete, additives, and water and supplies the ready-to-print mix to the Vulcan printer at the specified temperature, humidity, and speed.
When used with the Vulcan, Lavacrete can be printed at a maximum speed of 7"/s.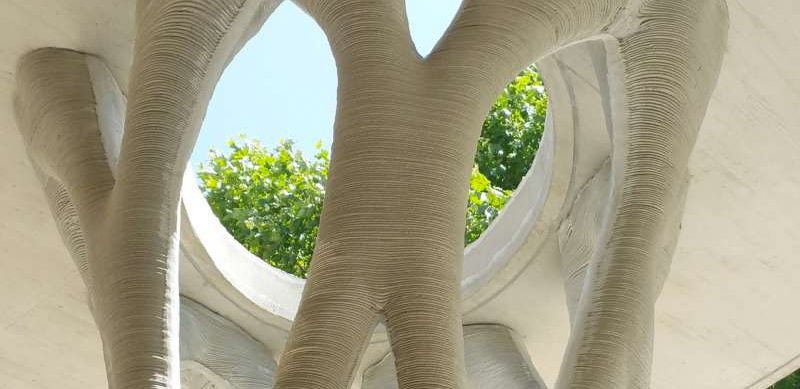 LafargeHolcim
Unlike the other companies highlighted here, Swiss LafargeHolcim doesn't produce a single named material. Instead, the company partners with construction companies on various projects, providing individually formulated 3D printable concrete mixes.
For example, LafargeHolcim has provided a printable white cement mixture for XtreeE, which has been used in various architectural and art projects. The company is also working with COBOD and GE Energy to develop a tailor-made concrete mixture for 3D printing bases for wind turbines.
That said, in June 2020, LafargeHolcim released Tector 3D Build, its first dry mortar material range for 3D printing. Made from cementitious materials and natural hydraulic lime, the material is capable of reaching very high print speeds, the company says.
Tector 3D Build is suitable for both residential and infrastructure printing projects. Unlike some 3D printable cement materials, it can be printed vertically, allowing facades and decoration to be printed directly onto the wall.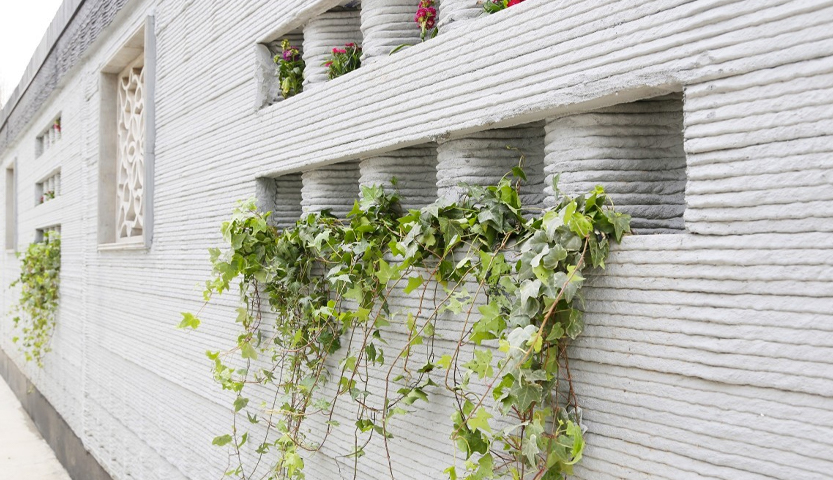 WinSun
China's WinSun primarily serves the Asia-Pacific market – which is one of the fastest-growing regions for 3D printable concrete. The company produces several different materials that have been used in various projects throughout China and elsewhere.
WinSun's Crazy Magic Stone (CMS) is an artificial stone material that is based on a modified cement mixture. The blend is further reinforced with enhanced glass fibers.
CMS provides a smooth finish that mimics natural stone colors and textures, while providing five to 10 times higher mechanical strength than natural stone. The company says that the material has been used in more than 100 projects to print interior and exterior walls, floors, and roofs.
WinSun also produces the Special Reinforced Concrete (SRC) materials, which was developed to overcome the limitations of the earlier glass-fiber-reinforced gypsum material. SRC can be implemented to create complex internal and external architectural elements and decorations.
The fiber-reinforced material provides high strength and durability. WinSun says the exact SRC mix can be customized to each project's specific needs.