In 2021, the construction industry added 121,000 jobs overall with gains across all major subsectors:
24,000 added in residential building
15,000 added in nonresidential
10,000 added in heavy civil engineering
However, residential construction was the only subsector to recover pandemic job losses at the national level, and is 49,000 jobs above February 2020 employment levels, the report noted.
For 2022, ThinkWhy's cloud-based HR and talent acquisition solution, LaborIQ, forecasts nearly 240,000 job gains in Construction and Extraction occupations, a 3.9% growth. (Construction and Extraction are combined in Bureau of Labor Statistics data, but Construction represents the majority of jobs.) Yet, one major factor could hinder job growth in all industry sectors: the labor supply.
More Jobs, Too Few Workers
According to the Job Market Outlook, the U.S. economy was on track to add at least 5.2 million jobs in 2021 and is forecast to gain 3.6 million jobs in 2022. Yet, the report states: "Even if every one of the nearly 7 million unemployed people took an open job, there would still not be enough people in the labor market to fill these open roles.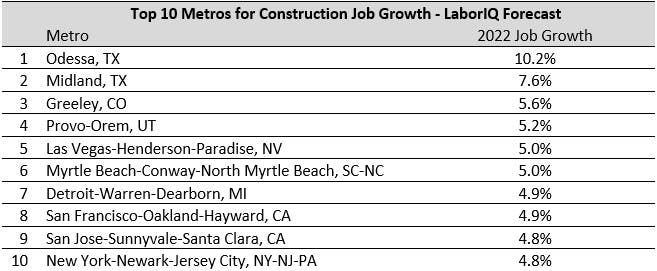 ThinkWhy"The big challenge for talent acquisition is the tightness of the labor market – businesses are struggling to find and retain talent, and turnover is high as workers move across jobs, industries and geographies," the report adds.
The report notes that the number of workers who are either employed or unemployed and looking for work decreased by just over 2.3 million people since February 2020. In addition, more workers are quitting their jobs than ever recorded.
As a result, job gains are expected to remain uneven across industries and U.S. regions throughout the new year. Large metro areas, which saw the greatest overall job losses during the pandemic, are expected to see the biggest jobs recovery in 2022.
Metros to Lead Construction Job Gains and Wage Growth
Construction and Extraction job gains are projected to be led by large metros, including New York, Los Angeles and Dallas. Residential construction is likely to account for a large portion of gains due to housing shortages in the Northeast and West Coast, and strong population growth and net migration in Texas, the Southwest and Southeast.
In particular, population growth in the Southeast is expected to drive demand for housing in the region, and housing shortages in the Northeast will increase the need to build further away from major metro centers.
The resulting workforce demands will contribute to higher wage growth in these regions in order to retain existing workers and attract new hires. Communities expected to be among the top metros for construction wage growth include: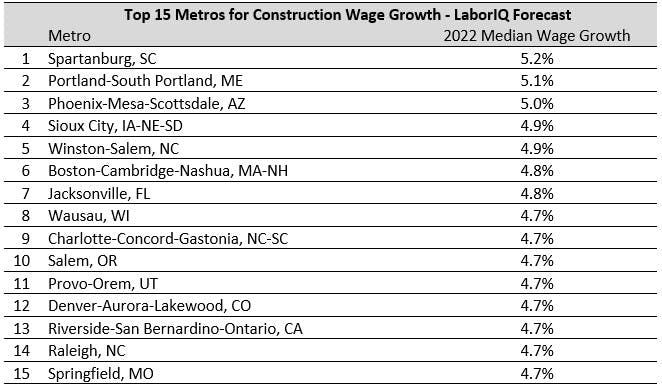 ThinkWhy
Spartanburg, SC
Winston-Salem, Charlotte, and Raleigh, NC
Boston, MA
Portland, ME
Phoenix, AZ
Jacksonville, FL
Provo, UT
Nationally, LaborIQ projects 3.9% annual median wage growth in Construction and Extraction occupations in 2022, with nearly 40 metros projected to experience construction occupation wage growth of more than 4.5%.