Written by Morgan Kaenzig de Denus, AMAST Content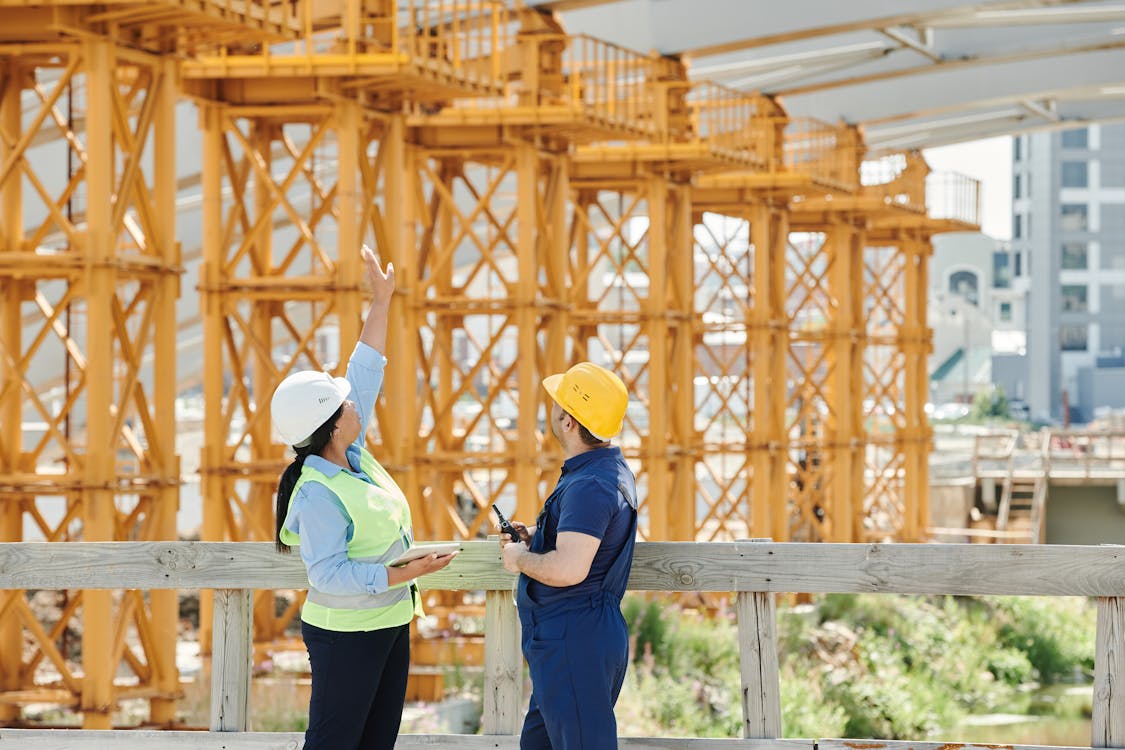 From Mikael Blomkvist on Pexels.com (

https://www.pexels.com/photo/a-man-and-a-woman-with-ppe-s-talking-at-a-construction-site-8961065/

) 

 
Over the past two years, the construction industry has faced a pandemic, supply chain disruptions, labor shortages, rising costs, and increasing uncertainty. But what's next?
The coronavirus is still sweeping the country, and nearly every industry is short workers due to the Great Resignation. However, technology is developing quickly, and most experts are optimistic about the construction industry's outlook in 2022. Here's what we can expect in the coming year.
Expectations for 2022
Worker Shortages
74% of contractors plan to hire workers in 2022, but most will find it difficult to fill positions. Not only has the construction industry struggled to attract young employees for years, but many of the industry's older workers decided to retire early during the pandemic. On top of that, millions of Americans quit their jobs in 2021 during the Great Resignation.
The construction industry was hit particularly hard. In October of 2021, there were 455,000 job openings in the construction industry, an all-time high and a 32% jump from 2020.
Some construction companies and their clients have already adapted vaccine mandates, and more are likely to follow in the coming months, which may further contribute to worker shortages. After all, the construction industry's vaccination rate is already significantly lower than other industries. 81% of employees in other occupations are already vaccinated, while just 53% of those in the construction industry are. This means that workers are more likely to catch COVID and experience severe illness. Plus, some may quit if faced with the decision to get vaccinated or find a new job.
However, there may be some relief. As inflation continues to rise, some workers may return to the industry.
High, Fluctuating Material Costs
In the last two years, the global supply chain experienced many disruptions — from the Suez Canal blockage to congested ports — and the cost of construction materials increased.
Steel's price increased by 133% between mid-2020 and January of 2022. Similarly, the cost of aluminum, copper, and lumber rose 40-65%, but the good news is that contractors found some relief in December when the price of copper dropped by 10%.
While this is a step in the right direction, we aren't likely to return to pre-pandemic prices any time soon. According to Ken Simonson, the chief economist for the Associated General Contractors of America, we're entering a period of price volatility, which, while frustrating, is better than the unbroken upward trajectory that material prices took last summer.
Varying Demand in Different Segments
While the outlook for the construction industry is generally positive for 2022, some segments will likely have higher demand. For example, contractors are more optimistic about the market for highway, bridge, transit, rail, and airport projects, in part due to the recently passed Bipartisan Infrastructure bill and potential increased federal investments. November 2021's Infrastructure Investment and Jobs Act earmarked $550 billion for infrastructure, which points to a sizeable increase in work for civil contractors.
Though private sectors may struggle to attract workers due to the influx of money in the public sector, contractors still have high expectations for client demand for warehouses, clinics, testing facilities, and medical labs. The demand for manufacturing facilities may also rise as more and more companies turn to onshoring to avoid the soaring costs and increasingly long shipment times associated with offshoring and ocean freight.
Expectations are also high for multi-family residential construction and manufacturing construction. Contractors expect slower growth for public buildings, lodging, higher education facilities, and schools, but retail and private office construction are the only segments expected to contract.
Improvement in Protective Equipment
Worker safety has always been essential in the construction industry, but new technology and stricter safety protocols will change on-site safety.
In addition to enforcing social distancing guidelines, site managers will likely take other actions to improve safety, from introducing sanitization procedures to investing in wearable innovations. For example, noise-reducing headsets can help protect workers' hearing without negatively affecting their awareness, wi-fi-connected work boots can signal the alarm if a worker falls, and smartwatches can provide insights into heart rates.
More Remote Worksites and Increased Mobile Access
Our world is highly digital — and it has become even more so in the pandemic. While working from home doesn't offer the same benefits as performing work on site, mobile applications have reduced the gap between the two.
Now, workers can conduct real-time inspections, take accurate measurements, and more from anywhere in the world, as long as they have access to a mobile phone camera. Managing assets and holding virtual meetings may also become simpler as technology evolves.
Further Interest in Modular and Prefabricated Construction
Modular construction and prefabrication have been on the rise for several years, and experts expect the trend to continue into 2022. Not only do prefabrication projects allow for low worker density, but they also involve smaller components, which means less equipment.
These forms of construction are more affordable and quick, and they require fewer workers, so they're ideal in the face of high material costs, labor shortages, and social distancing policies.
An Increase in Innovative Materials and Technologies
As the construction industry looks to become more sustainable and help users save money, innovative materials are becoming increasingly popular. From self-healing concrete to invisible solar cells, companies are turning to innovative materials to save users money in the long run. Other up-and-coming materials include transparent aluminum, light-emitting concrete, 3D graphene, mycelium composites, and Engineered Cementitious Composite (ECC).
Similarly, technology is rapidly evolving in the construction industry, allowing construction firms to complete projects faster, more safely, and more cost-effectively. Some technologies that are likely to rise in popularity in 2022 include:
3D printing: Not only does 3D printing cut transportation risks and waste, but it shortens the supply chain, offers increased opportunities for customization, and is much faster than traditional building methods.
Drones: Drones can easily capture aerial views of construction sites, giving architects more information and site managers the ability to track progress and monitor problems.
Environmental sensors: These sensors can detect noise, wind, and heat and offer workers warnings. In the event of a natural disaster or other emergency, workers will be able to evacuate and move expensive construction equipment in advance.
Robotics: Robotics has become increasingly essential in the construction industry, and the labor shortage has hastened some companies' adaption of the technology. Some companies use robots to parse through data findings and turn them into actionable insights, while others rely on robots to lay bricks.
Looking Forward
The construction industry hasn't had it easy in the last few years, but the good news is that the outlook for 2022 is positive. Not only will construction likely pick up as the economy continues to recover from the pandemic, but workers may start returning, the kinks in the supply chain may begin to resolve, and technology will continue to evolve.
Sources
Bousquin, J. (2022, January 10). Economic outlook: The issues that will boost, challenge construction in 2022. Retrieved January 31, 2022, from https://www.constructiondive.com/news/economic-outlook-the-issues-that-will-boost-challenge-construction-in-202/616803/
Construction industry approaches 2022 with cautious optimism. (2022, January 6). Retrieved January 29, 2022, from https://www.hngnews.com/monona_cottage_grove/opinion/article_cb51ad20-0760-540f-ab85-77901d86e369.html
Construction Firms Foresee Growing Demand For Most Types Of Projects, As 74 Percent Of Firms Plan To Hire In 2022 Despite Supply Chain And Labor Challenges. (2022, January 12). Retrieved January 30, 2022, from https://www.agc.org/news/construction-firms-foresee-growing-demand-most-types-projects-74-percent-firms-plan-hire-2022
Holmes, M. (2022, January 20). It's time to be optimistic about the construction industry. Retrieved January 31, 2022, from https://nationalpost.com/life/homes/its-time-to-be-optimistic-about-the-construction-industry
Phillips, Z. (2022, January 6). 3 trends impacting construction's labor outlook in 2022. Retrieved January 31, 2022, from https://www.constructiondive.com/news/3-trends-impacting-constructions-labor-outlook-in-2022/616701/
Rogers, S. (2022, January 12). Construction industry expects expansion, hiring in 2022: Survey. Retrieved January 30, 2022, from ​​https://www.wtvq.com/construction-industry-expects-expansion-hiring-in-2022-survey/
Top 10 Construction Industry Trends To Watch For In 2022. (2021, December 13). Retrieved January 30, 2022, from https://www.bigrentz.com/blog/construction-trends
6 CONSTRUCTION INDUSTRY TRENDS FOR 2022 (2022, January 20). Retrieved January 31, 2022, from https://finance.yahoo.com/news/6-construction-industry-trends-2022-165100763.html